Tower Defense - The Last Realm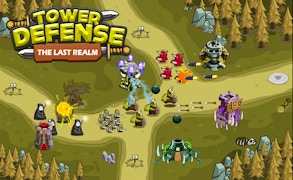 Tower Defense - The Last Realm
Description
In Tower Defense: The Last Realm, you'll find yourself captivated by strategic challenges and intense battles. The game boasts 40 thrilling levels with 3 difficulty tiers, each offering its unique set of trials. Defend your kingdom with 7 types of towers: Archer, magic, poison, rocket launcher, gunmen, cannoneer, and thunder. Each tower system boasts special capabilities and could be upgraded up to the 4th level for advanced defense strategies.
How to play
Playing Tower Defense: The Last Realm is all about strategy and quick decision-making. Choose from the available towers and place them strategically on the map to eliminate incoming enemies. Upgrade your towers frequently to enhance their abilities for optimum defense. Advance through levels by successfully defending your kingdom against waves of enemy attacks.
Tips and Tricks
For new players in Tower Defense: The Last Realm, understanding the strengths of each tower type is crucial. Use towers like poison for area control, gunmen for rapid attacks, or thunder for crowd control. Timing your upgrades with incoming enemy waves will ensure that your defense remains strong.
Features
Variety in Gameplay: 40 different levels with varying difficulty levels.
Diverse Tower Choices: Seven unique types of towers with their own abilities.
Upgradable Towers: Enhance your defense strategy by upgrading towers up to level 4.
Engaging Challenges: New mission games that'll keep you on the edge of your seat.
What are the best online games?