Tower Defense: Super Heroes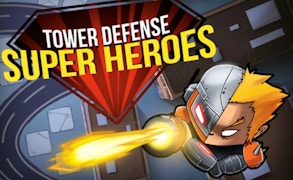 Tower Defense: Super Heroes
Step into a world where superheroes are your nemesis and relish the thrilling excitement in Tower Defense: Superheroes, an action-packed arcade game that's redefining the dynamics of war games and battle games. The game cleverly challenges you to strategically utilize a team of super-villains to protect your reserve of health points from an onslaught of superheroes. This innovative reversal of roles is not just refreshing but also intensely engaging, making the game a standout in the realm of action gaming.
The narrative takes you through a plethora of stunning landscapes from all corners of the Earth, adding to the visual allure. However, it's not just eye-candy; every superhero on their path is out to deplete your health points. A single lapse could lead to their successful infiltration, making it an intriguing test of strategy and quick decision-making.
Amid this chaos, your only allies are an eccentric mix of super-villains, each with their unique characteristics and abilities. Positioning these characters on the field is crucial as they tackle waves of heroic adversaries. Utilizing their distinct skills at the right time can turn the tide in this high stakes war game.
Tower Defense: Superheroes offers a perfect blend of thrilling action and strategical gameplay that's tailor-made for fans itching for dynamic battle games. Its unique premise and challenging gameplay provide an unforgettable gaming experience that will keep you hooked for hours on end. If you're in search of a different flavor within action gaming, buckle up for Tower Defense: Superheroes—it's time to be bad, in a good way!
What are the best online games?
Tags