Tower Defense Kingdom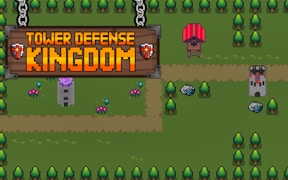 Tower Defense Kingdom
If you have a penchant for archery games that keeps you on the edge of your seat, or if the adrenaline rush of battle games keeps you coming back for more, then allow me to introduce you to your new obsession: Tower Defense Kingdom.
This pixel-perfect game expertly combines elements from both war and pixel games, resulting in an action-packed gaming experience that will leave you breathless and craving for more. Visually, it's a feast for your eyes with its blend of charming aesthetics typical of pixel games, and intense scenes reminiscent of brutal war games.
The objective? Defend your castle at all costs. Employing strategic gameplay that fans of battle and war games are sure to appreciate, Tower Defense Kingdom demands both tactical prowess and quick reflexes. The princess is in danger and it's up to you to protect her. But fear not, my fellow thrill-seekers; with a bow in hand and an army at your back, victory is within reach.
Tower Defense Kingdom takes traditional tower defense mechanics and seamlessly integrates them into a unique archery-based combat system. Keep the enemy hordes at bay through skillful archery and timely decision-making as when to upgrade your defenses or call upon powerful spells.
The allure of Tower Defense Kingdom lies not only in its exciting gameplay but also its appeal spanning both fans of pixellated nostalgia and intense battle games. Whether you're an experienced gamer looking for a new challenge or a casual player seeking an engaging pastime, this game offers something for everyone.
In conclusion, Tower Defense Kingdom is far more than just another addition to the vast array of archery, pixel, battle or war games available today – it's an exhilarating ride full of intense battles that keeps players coming back for more.
What are the best online games?