Tower Defense 2D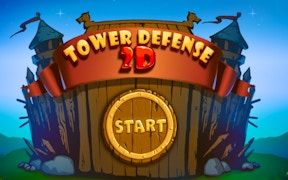 Tower Defense 2D
Consider the immersive world of Tower Defense 2D, a unique gem in the realm of Strategy games. This blend of Management games, war games, and battle games amalgamates to create an exhilarating gaming experience that leaves players both challenged and entertained.
As the strategist, you are bestowed with the power of commanding unique towers, each boasting diverse abilities. Whether it be a fast-paced sword game, an aim-oriented archery game, or even a thrill-packed monster game, Tower Defense 2D offers a kaleidoscope of strategic possibilities. Multiple enemies dare to breach your stronghold, their strength and cunning escalating with each successive level.
The heart-racing excitement you feel as you manoeuvre through six distinctively challenging levels is nothing short of addictive. Each level presents its own set of challenges, obligating players to adapt, strategize, and overcome through innovative tactics.
Beyond managing towers, Tower Defense 2D empowers its players with captivating spells. The sheer thrill of vanquishing enemies with a flick of your fingers is potent and enthralling. It keeps gamers on their toes as they strive to maintain their defense while maximizing their offensive spell casting.
In conclusion, Tower Defense 2D is an electrifying blend of strategy, management, and action — perfect for those who crave gaming experiences that stimulate the brain while setting the adrenaline racing. If you're seeking an engaging Strategy Game teeming with relentless battles and strategic depth epitomized in sword fights, archery battles, and monster confrontations; don't miss out on this masterpiece!
What are the best online games?