Tough Guys - Anime Clicker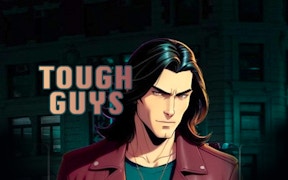 Tough Guys - Anime Clicker
If you're a fan of anime and action-packed clicker games, then brace yourself for a whole new level of excitement with "Tough Guys - Anime Clicker." This title delivers an unparalleled blend of anime aesthetics and engaging action that will have you glued to your screen.
The star feature of this game lies in its clicker mechanic. As an action game enthusiast, the satisfaction derived from rapidly clicking or tapping to defeat foes cannot be overstated. But Tough Guys isn't just about mindless clicking; it offers depth as you need to time your clicks right. Every tap counts, every click matters, and every second is precious in this world.
A standout aspect in Tough Guys is the in-game currency system. The sense of progression as you amass enough currency to unlock and collect new characters is beyond rewarding. With a whopping 20 anime-styled characters in total, each offering unique abilities and styles, you'll find yourself aiming for that ultimate goal - to open them all.
Aesthetics wise, Tough Guys knocks it out of the park. The anime-style characters are brilliantly drawn with remarkable attention to detail. If the visually stunning character design doesn't keep you hooked, the dynamic backgrounds and fluid animations surely will.
In conclusion, 'Tough Guys - Anime Clicker' offers an addictive mix of chaotic action, strategic clicker gameplay, and dazzling anime art style. Whether you're an ardent anime fan or not, this game provides an enjoyable experience that is difficult to put down.
Tough Guys - Anime Clicker is not just another title in the vast ocean of anime games or clicker games; it's a standout masterpiece waiting to be explored by action game lovers worldwide. Now, gear up and set forth on this exciting gaming journey!
What are the best online games?
Tags