Totò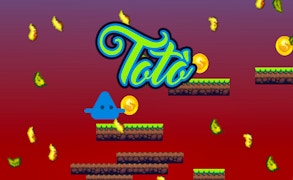 Totò
Description
Welcome to Totò, a fantastical arcade adventure in the world of monsters and coins. The game challenges your skill and reflexes across three exhilarating levels of escalating complexity. The goal is simple - gather as many coins as you can while dodging treacherous obstacles. But be advised, it's easier said than done!
How to play
To navigate the monster through the course in Totò, you utilize your keyboard controls. The game progressively increases in difficulty so it's essential to master your timing and precision. Your score is determined by the number of coins collected, so focus on grabbing those shiny treasures while sidestepping any barriers that come your way!
Tips and Tricks
Don't rush! In Totò, reckless speed might lead to missed coins or unexpected collisions with obstacles. Be patient and time your moves carefully. Remember, the goal is collecting as many coins as possible, not finishing fastest!
Features
Three levels of challenging gameplay increasing in difficulty.
An engaging scoring system based on coin collection.
Skillful and strategic gameplay requiring careful navigation.
An exciting world of monsters and obstacles.
A compelling arcade adventure for skill-game lovers.
What are the best online games?