Tob vs Kov 2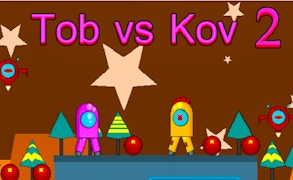 Tob vs Kov 2
Description
Immerse yourself in the thrilling 2D universe of Tob vs Kov 2, where you portray Tob, a brave robot on a critical mission. Your task is to gather elusive red balls scattered across various levels while simultaneously evading menacing obstacles such as enemy robots and lethal saws. The adventure encompasses eight challenging levels, each progressively more complex than the last.
How to play
You navigate Tob using the "WASD" or "Arrow" keys and can execute double jumps by pressing the "W" or "Up" arrow key twice. Be sure to avoid hostiles and reach the Exit door, all while collecting as many red balls as possible within each level.
Tips and Tricks
To thrive in Tob vs Kov 2, one must be precise with the controls, use double jumps wisely, and always keep an eye out for moving obstacles. It's essential to plan ahead; predicting enemy patterns can make evasion easier, leading to more successful runs.
Features
Engrossing Platformer: Classic arcade-style gameplay mixed with modern elements.
Diverse Challenges: Offers eight unique levels with increasing difficulty.
Skill-based Gameplay: Success depends on quick reflexes and strategic planning.
Innovative Mechanics: Double jump feature introduces an extra layer of challenge and strategy.
What are the best online games?