Tob vs Kov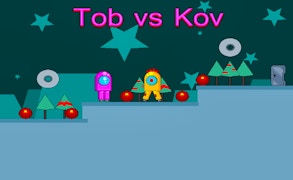 Tob vs Kov
Description
In Tob vs Kov, you step into the unique world of an exciting 2D Sci-fi platformer. Assume the role of Tob, a resourceful robot who must navigate through intricate levels, collecting red balls all along. With fast-paced gameplay that gets progressively challenging with each level, you'll have to dodge sinister enemy robots and perilous saws to triumphantly reach your escape route - the Exit door.
How to Play
The controls are straightforward, making it easy even for beginners. Use the WASD or Arrow keys to move Tob around the level. For added excitement and tactical advantage, double jumping is possible using 'W' or 'Up' arrow key twice. Collect those red balls and make your way to the Exit door while avoiding potential threats that lurk at every corner.
Tips and Tricks
Plan your moves strategically and remember that timing is crucial. Utilize your double jump ability smartly to outmaneuver enemies and overcome obstacles. Always keep an eye on upcoming threats and be quick to react in this high-speed Sci-fi escape game.
Features
Rapid-paced Gameplay: Keeps you constantly engaged with heart-racing tension.
Progressive Difficulty: Ensuring a continuously challenging experience.
Sleek Controls: Smooth and responsive for an enjoyable play session.
Intricate Level Design: Offering varied challenges that require strategy & quick reflexes.
What are the best online games?