Tiny Zombies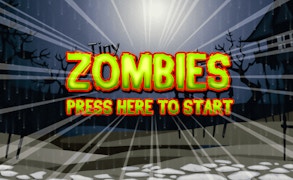 Tiny Zombies
Description
Unleash your survival instincts in the thrilling world of Tiny Zombies. This action-packed game offers an immersive journey where you fight hordes of the undead. The game requires swift reflexes and strategic planning as you navigate through various levels filled with zombies. The unique tap-to-destroy mechanic injects a sense of urgency, making each level more intense than the last!
How to play
To control your character, simply tap on the screen. Tapping on a zombie will attack it while a swift swipe can help you dodge incoming attacks. Progress in the game can be achieved by defeating waves of zombies, allowing you to unlock new characters and weapons. Remember, timing is key, so respond to every attack quickly and strategically.
Tips and Tricks
Don't rush into a crowd of zombies without a plan; instead, strategize your moves. Watch their patterns and strike when they're most vulnerable. Upgrading your character and weapons frequently can significantly increase your chances of survival. Lastly, practice dodging attacks, because evasion is as important as offense.
Features
Energizing click-and-tap gameplay that demands quick reflexes.
A variety of gruesome zombies to defeat.
Unlockable characters and upgradeable weapons for strategic gameplay.
Mesmerizing graphics with an eerie atmosphere enhancing the scary feel.
Intriguing levels that challenge your survival skills.
What are the best online games?