Tiny Rifles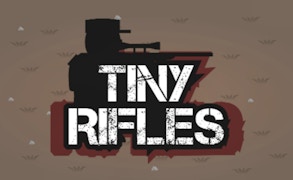 Tiny Rifles
Step into the thrilling world of strategic combat with Tiny Rifles, a standout entry in the bustling landscape of war games. With its captivating game mechanics and mesmerizing design, Tiny Rifles takes you deep into the battle trenches where every move matters. As far as gun games go, this gem stands atop, wielding an arsenal of thought-provoking gameplay elements that consistently keeps gamers on their toes.
Your mission is simple yet challenging: you must lead your troops to victory. But therein lies the beauty of Tiny Rifles. It's not just about overwhelming firepower or having the upper hand; the game demands strategic planning and tactical precision. Each deployment feels like solving a puzzle, giving Tiny Rifles a unique place among battle games.
With each encounter, Tiny Rifles compel players to think beyond raw aggression and warfare ideology. The real enemy here isn't simply the opposing forces you face on the battlefield but rather, a test of your decision-making capabilities under pressure. Crushing your enemy and winning the war isn't just about brute force - it's about making calculated decisions and outsmarting your opponent.
Tiny Rifles injects fresh vitality into warfare gaming by breaking away from traditional norms and building new rules with nuanced strategy and planning elements. The game's charm lies in its simplicity, but underneath that facade bustles a core of complexity that will leave lovers of strategy-based stay glued to their screens.
In conclusion, if you are seeking a fresh take on war gaming with intense challenges that require cunning strategies and meticulous planning, then look no further. Embrace your inner general with Tiny Rifles, where every battle is not only a test of power but also intellect.
What are the best online games?