Tiny Landlord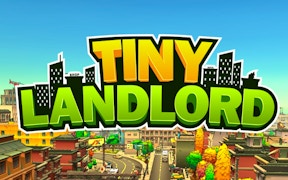 Tiny Landlord
Get ready to dive into the world of strategy, meticulous planning, and epic city building with Tiny Landlord. This city building game offers an appealing mix of management and strategy, placing you in charge of your budding city's destiny. With Tiny Landlord, the prowess of your decision-making abilities will be genuinely tested.
Branded as one of the finest building games, Tiny Landlord is a grand journey through town-planning and civic management in a fun, engaging package. You become the overseer, the mastermind behind an evolving town's economy. Managing cash flow, deciding what to build next, where to invest - these are just some of the many tasks you'll find waiting for you in this top-tier management game.
As with any great city building game, you're not only limited to creating buildings. The challenge lies in maintaining a balance between upgrading your city on time while keeping its citizens content. Beautify your city with trees, set up eye-catching streetlights and provide other facilities to attract more citizens and make them happy.
Tiny Landlord is also one of the best idle games. It allows you to plan out your strategy carefully without rushing through stages or missions. The game takes on a new level when it becomes a money game. Cash flows from various sources, but it's up to you how efficiently it's used.
If you've always fancied yourself as a real estate magnate or dreamt about running a bustling metropolis, then step into the shoes of a tycoon with this excellently designed tycoon game. Experience firsthand the thrill and satisfaction that comes from creating a successful city from scratch.
Dive into the immersive world of Tiny Landlord today and become the ultimate Titan of Town Planning!
What are the best online games?