Tiny Fishing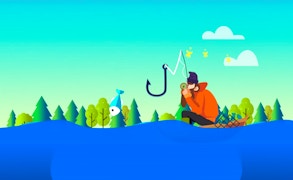 Tiny Fishing
Fishing is almost guaranteed as an activity in any large-scale game, but it also serves as the basis for many games, like Tiny Fishing. You take on the role of an experienced fisherman on his little boat in the middle of a lake. He appears to have discovered a very deep part of the water as this seems to be the only place where he wants to fish. It proves to be a very fruitful area since not only does it seem to go on forever, but the kinds of fish you and he can catch there range from common to legendary.
About Tiny Fishing
Both in real life and in video games, fishing is viewed as a relaxing activity. In many cases, people will set up their fishing stuff not with the intent of catching anything, but simply with the intent to have something to do. This game is relaxing but it's also very rewarding with a few amount of movements. While the fisherman sits calmly in the boat, you help guide their efforts so they can have the best of both worlds. You just need to hope that your boat has enough space.
How to Play
Tiny Fishing is a 2D fishing game that you can play with the mouse. It's designed for the phone so it operates on swipe control gameplay. You use the left mouse button to click on the Play button, which also serves as a power meter with a needle that goes back and forth. You'll want to click it when the needle touches the yellow Max bar. This will send the Hook down as deep as it can currently go.
Once the hook reaches its maximum depth, the fisherman will automatically start to reel it back up. This is your chance to hold the left mouse button and drag the mouse back and forth to steer the hook. The hook will collect anything it catches from fish to treasure chests and after it reaches its current max capacity, the fisherman will reel it in instantly. Everything you've caught will be converted to cash or gold and then you can cast again. If you collect enough matching fish for a bonus, you can pick cards to earn even bigger rewards
The money you earn can be spent on one of three upgrades: Hook depth, hook capacity, and money earned while away. All of them allow you to fish more and earn more money with consistent playing. The gold coins you earn can be spent on different kinds of hooks, but these are cosmetics. As you catch more fish, you'll unlock the Aquarium, where certain fish you've caught will swim around and generate money for you. The goal is to make as much as possible so that you can send your hook as deep as possible.
Tips and Tricks
Your hook will have very little range at the start so many of your attempts will be quite short and that's why you need to upgrade fishing capacity first. After you've caught multiple large batches, you can upgrade depth to get more valuable fish. The money upgrade should be the last thing you spend your money on.
Game Details
Developer: Mad Buffer
Platforms: Web Browser (PC and mobile), iOS, and Android
Languages: English and Russian

Gameplay Footage
FAQs
Is Tiny Fishing free?
The game is currently free to download and play on all of its available platforms. There's even a version that works as a browser extension.

How does it work?
Tiny Fishing is both an active and idle game where you time the power of your cast and then guide the hook to the most valuable fish as it gets reeled back up to the boat.

Games similar to Tiny Fishing
With its theming and gameplay, this game is put into the Fishing and Skill Games categories on GamePix. The other such games in these sections are Willow Pond Fishing, Survival Island, Color Line, and My Shark Show.
What are the best online games?
TAGS