Tiny Blues Vs Mini Reds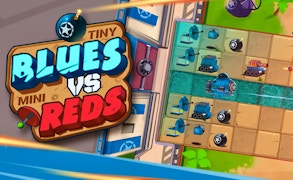 Tiny Blues Vs Mini Reds
Immerse yourself in the thrilling world of strategy battle games with Tiny Blues Vs Mini Reds. This captivating game grips you with its intense combination of tank games and brain games, with the added twist of war-time strategy. The game is a masterful blend of strategy and warfare, compelling you to think and maneuver in ways that test your mental metal.
Become the commander of the Tiny Blues, a heroic army standing against the villainous Mini Reds. These antagonists aren't just nemeses—they're vying for control over your most pivotal military base, which you must defend at all costs. Tactics and strategy are integral to your success in this war game. Your choices hold the power to lead your troops into triumphant victory or devastating defeat.
This game isn't merely about going into battles, it's about planning, strategizing and making tough decisions that are cost-effective to defend your base. Will you manage resources for an extensive defense or will you amass an army to march against the Mini Reds directly? Each decision matters and each choice can alter the outcome of this gripping war game.
Your job isn't just to win a battle—it's to out-think, out-maneuver, out-strategize your enemy in one of the best brain games on offer. You'll not only command tanks and troops but also guide their strategic deployment to ensure optimal results on the battlefield.
In conclusion, Tiny Blues Vs Mini Reds offers a unique blend that strategy game enthusiasts and fans of tank games, or those simply seeking cerebral stimulation will find hard to put down. So gear up, lead your Tiny Blues army with pride, and show those Mini Reds what strategic warfare truly means!
What are the best online games?