Tina - Pop Star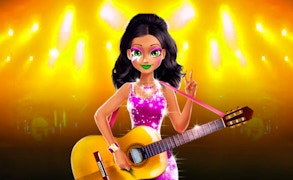 Tina - Pop Star
Illuminate your screens and light up your imaginations with this dazzling dress-up game, Tina - Pop Star! This enchanting game is the perfect choice for those seeking out engaging games for girls. The >makeup games genre has never been this entertaining, offering a mix of creativity, strategy, and most importantly, fun!
The premise of Tina - Pop Star challenges you to assist the charismatic pop icon Tina in her preparation for her upcoming concert. You will need to stir up your inner fashion designer to ensure Tina stuns her audience. Each mission is filled with excitement as you get to handpick outfits from a variety of glamorous attire and trendsetting make-up looks!
One remarkable aspect of this game is its highly interactive nature. Each choice you make directly influences Tina's appearance and performance at the concert that evening. From selecting eye-popping stage costumes to applying the perfect blush-on, each decision contributes towards making Tina's show a hit or miss.
Moreover, Tina - Pop Star stands out for its visual appeal. The colourful graphics and vibrant interface immerse players into the glitz and glamour of the pop world. Its easy navigation aids even younger players in getting comfortable with gameplay quickly.
In terms of dress-up games, Tina - Pop Star certainly lives up to expectations and raises the bar for future games for girls. Its intricate gameplay coupled with an engaging storyline ensures an unforgettable gaming experience.
In conclusion, if you're looking for an addictive makeover extravaganza that masterfully combines creativity, strategy, style, and endless fun – then don't miss out on Tina – Pop Star. It's time to take centre stage in shaping the next big pop sensation!
What are the best online games?