Tina - Ballet Star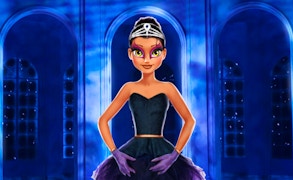 Tina - Ballet Star
Get ready for a magical adventure and indulge in a world of fantasy with Tina - Ballet Star, a brilliant addition to the delightful realm of games for girls. This enchanting game beautifully combines elements of dress up games and makeup games, promising an immersive experience that any young dancer will adore.
In this captivating game, you are entrusted with the wonderful task of preparing Tina, a graceful ballerina, for her ultimate performance. This isn't just another dress up game; it's an expression of style, creativity and imagination. Ballerina Tina isn't just a character; she's your partner in creating an unforgettable experience!
The charm of this game lies in its simplicity. Even if you've never played dress up or makeup games before, Tina - Ballet Star is easy to understand and exciting to play. The controls are intuitive; choosing outfits and applying makeup feels natural and fluid. Whether it's choosing the perfect tutu or applying just the right amount of blush, every decision contributes to Tina's journey towards stardom.
Visually, the game is appealing with vibrant colors, dazzling outfits and eye-catching effects that truly encapsulate the spirit of ballet. The graphics foster an atmosphere of elegance and beauty synonymous with ballet culture. And finally, the music deserves mention too —the game boasts soothing melodies that add another layer to this already impressive mix.
In conclusion, Tina - Ballet Star is more than just a game—it's an opportunity to step into the sparkling shoes of a ballet star! For little girls who dream about dancing on stage or who simply enjoy fashion and makeup, this game is undoubtedly an absolute must-play!
What are the best online games?