Tina - Airlines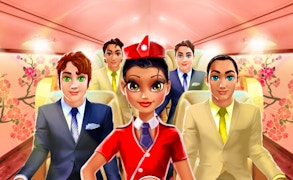 Tina - Airlines
Welcome aboard a gorgeous fashion-and-flight adventure with Tina - Airlines, an interactive, creative, and engaging airplane game that's perfect for the young and the young-at-heart. This game seamlessly merges dress up games, makeup games and airplane games into an exciting world of glitz, glamour and high-flying fun.
Aimed primarily at our games for girls category, this captivating game will surely win hearts with its vibrant visuals, intuitive gameplay, and an incredible variety of wardrobe options that allow players to help Tina the air hostess get ready for her flight. The gameplay is not just about adding sparkle to Tina's look; it's about nurturing creativity through fashion!
Tina - Airlines is not only one of the more dynamic dress up games but also one of the more innovative makeup games. It allows players to explore different beauty styles and builds fashion sense which can be applied in real life scenarios. From choosing between chic uniforms to trendy accessories, selecting hairstyles to applying makeup – the freedom of choice in this game is simply astounding!
The biggest surprise comes when you take on the role of a flight attendant. Taking care of passengers sure requires tact! Handling this part of airplane games will teach problem-solving skills and instill a sense of responsibility in young minds.
In conclusion, Tina - Airlines is an absolute must-try! It takes you on a thrilling journey from being a glamorous air-hostess to being a responsible flight attendant. This blend of dress up games, makeup games and airplane games makes Tina - Airlines a truly unique experience in our expansive collection of kids' online gaming options.
What are the best online games?