TieFighter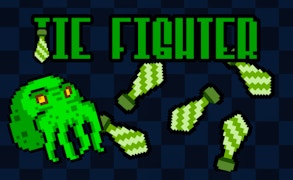 TieFighter
Description
TieFighter is an exhilarating arcade game that throws you into the thrilling adventures of Longtie. Your mission is to vanquish hordes of monstrous foes using an endless stream of ties. The game boasts a shop feature for upgrading your character and offers an assortment of ties to pick from. Frequent use of cookies and local storage is recommended for saving progress.
How to Play
Use WASD or Arrow keys for character movement and E for interaction or holding on to skip the shop phase. Engage Shift to slow down. The Mouse is needed for aiming and shooting, while the mouse scroll lets you zoom in/out. Pressing R resets the camera view.
Tips and Tricks
Prioritize collecting items dropped by vanquished monsters - these can be used in the shop for character upgrade. Utilize the slow down function strategically to dodge enemy attacks effectively. Don't forget to zoom out occasionally for a larger field view, particularly when dealing with multiple enemies.
Features
Mesmerizing arcade-style gameplay with endless action.
In-game shop system that allows character upgrades and new tie purchases.
Omnipresent Tie-throwing combat system.
Detailed monster wave system, keeping players engaged at all times.
User-friendly controls and camera customization options.
What are the best online games?
Tags