Tictoc Paris Fashion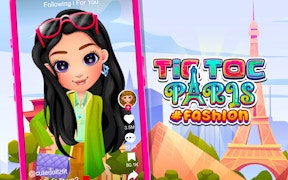 Tictoc Paris Fashion
Bursting onto the scene with a kaleidoscope of colors and a charming storyline, Tictoc Paris Fashion firmly establishes itself as a must-play in the games for girls genre. This game ingeniously combines elements of dress up games, hairdresser games, makeup games, and fashion games, allowing young aspirants to unleash their fashion prowess on the streets of Paris.
Our protagonist is no ordinary girl. She's poised to become a tictoc star, and you're just the seasoned stylist she needs to transform her into an icon of style. The game's primary appeal lies in its broad assortment of wardrobe options, captivating makeup kits, and unique hairstyles that add an element of realism to this virtual fashion extravaganza.
The gameplay is as immersive as it is entertaining; following hints to select the perfect ensemble for our aspiring tictoc starlette. Every choice you make shapes up her look, and when she struts onto the bustling Parisian catwalks with aplomb - you know you've done a good job.
But Tictoc Paris Fashion isn't merely about aesthetics; it involves some pretty sharp strategizing too! You'll need to garner likes and earn money through your sartorial selections which can be used to buy new items - providing an exciting twist reminiscent of memory games. Remember: more likes mean more money, and more money means more fashion ensembles!
In conclusion, Tictoc Paris Fashion is a well-rounded game that beautifully meshes dress-up with strategy – all wrapped in an appealing Parisian package. Whether you're vicariously living your wildest fashion dreams or brushing up your memory skills by remembering which outfits garner those valuable likes - Tictoc Paris Fashion is sure to provide hours of entertainment for girls who love fashion.
What are the best online games?