Tictoc Nightlife Fashion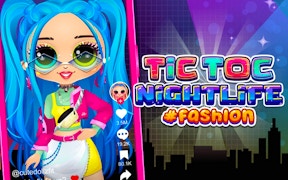 Tictoc Nightlife Fashion
Description
In Tictoc Nightlife Fashion, make your entrance into the world of glamour and style. This game encourages you to channel your inner fashion designer as you dress up a girl to shine in the vibrant nightlife scene. With exciting challenges like selfie sessions and earning likes, the fun never ends! Explore different fashion styles, earn rewards, and transform the girl into a ravishing tictoc star.
How to play
To play Tictoc Nightlife Fashion, select from a myriad of fashion items to dress up the girl. Navigate by clicking or tapping on items to try them on. After creating her look, take selfies and gather likes for your unique style. The more likes you earn, the more new items you can purchase for your fashion exploration.
Tips and Tricks
Start by following the provided hints. They guide users on which fashion items to select. The key is in maximizing your likes count - more likes mean more currency for shopping new items. Always try new combinations to keep her look fresh and stylish!
Features
Dynamic Dress-up System: Choose from a wide selection of fashionable items.
Social Interaction: Simulation of social media activities with selfie-taking and gathering 'likes'.
Currency System: Earn 'likes' as currency to unlock new clothing and accessory options.
Fashion Exploration: Try out different styles as there are no limits in creating your unique look!
What are the best online games?