Tictoc Catwalk Fashion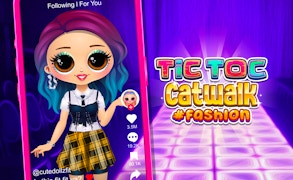 Tictoc Catwalk Fashion
Description
In "Tictoc Catwalk Fashion", you'll explore the captivating world of fashion modeling with a lovable character. Your mission is to style this adorable girl to ensure she sparkles on the runway. Following prompts, pick the perfect apparel that can make her the star of the show. The more you nail your style choices, the more likes you earn on reels, opening up opportunities to purchase fresh fashionable items and elevate your model's catwalk chic.
How to play
The game operates through simple click controls. Follow on-screen cues to select different outfits, hairstyles, and makeup for your aspiring model. Every outfit and look earns likes based on how well they align with given hints. Collecting these likes translates to in-game currency, which can be used for upgrading your wardrobe and enhancing your model's appearance.
Tips and Tricks
Pay close attention to the hints provided before each selection. These will guide you towards making fashion choices most likely to gain higher numbers of likes. Prioritize earning currency rapidly by choosing looks that strongly resonate with the hints.
Features
Ease of control with simple click interface
Engaging gameplay revolving around fashion choices
In-game currency system linked with player performance
Plethora of fashion items available for purchase and customization
Stunning graphics that bring every detail to life on the catwalk
What are the best online games?