The Utans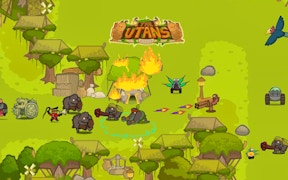 The Utans
Prepare to immerse yourself in a world of medieval battles and thrilling tower defense strategy with The Utans - Defender of Mavas; an exciting entrant on the scene of war games, knight games, and battle games. As a compelling addition to the realm of building games and management games, it stands out with its captivating blend of action-packed gameplay and resource management.
The game presents an arena with 12 engaging levels where your strategic prowess is put to the ultimate test. You must prevent the onslaught of hostile forces from breaching your stronghold. The meticulous crafting of your army and positioning them optimally across designated spots in each level is pivotal in achieving this mission.
A unique element in this mesmerizing war game is the use of collected fruits, which become the lifeblood for expanding your army and fortifying your towers. The wealthier you are in fruit bounty, the stronger your troops, fortifications, and overall defenses.
What makes The Utans - Defender of Mavas even more fascinating is the infusion of special elements scattered across levels. These coveted components, when procured, can be utilized within the upgrade-menu to enhance your troops right from their genesis; giving you an edge over those pesky invaders.
In conclusion, The Utans - Defender of Mavas offers a well-rounded gaming experience that brings together elements from traditional tower defense games with nuances of innovative strategy gaming. Whether you're a seasoned veteran or just starting on your journey within this genre, this game will keep you hooked with its healthy mix of strategic planning, resource management, and riveting gameplay. Don't just play war – live it in this enthralling game!
What are the best online games?