The Shooter PRO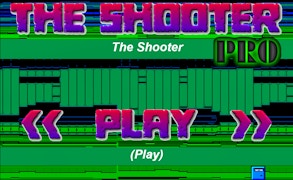 The Shooter PRO
Description
Welcome to The Shooter PRO, a pixel-based, action-packed platform shooter that will challenge your reflexes and strategic thinking. Navigate your character through levels alive with hostiles, hurdles, and pitfalls. Your character is fragile; one touch from any enemy and you'll need to start all over again. Survive the dangers, reach the victorious flag at the end of each level and prepare to face even bigger challenges in the next.
How to play
Control your character's movement with arrow keys or WASD for walking, running, and jumping. Use the spacebar to execute a double jump for conquering higher platforms or dodging enemies. Press 'X' to shoot at obstacles or foes. Getting hit once will send you back to the start of the level; but successfully reaching the flag ensures victory and unlocks a tougher level.
Tips and Tricks
Pacing is crucial in The Shooter PRO. Don't rush into enemy territories without a plan. Always be ready for a double jump. It could make all the difference between survival or starting again. Aim accurately when shooting; wasted shots may create unnecessary risks.
Features
Vintage Pixel-Art graphics: Indulge in nostalgia with old-school graphics.
Action Packed Gameplay: Fun-filled platform shooting with challenging obstacles.
Multiple Levels: Each level ups the ante making gameplay exciting each time.
User-friendly controls: Simple yet effective controls make it easy for all ages to play.
What are the best online games?
Tags