The Lost Pyramid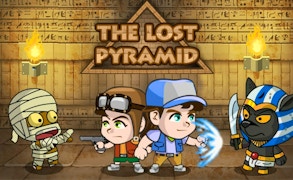 The Lost Pyramid
Enter The Lost Pyramid, a pulsating blend of escape games, monster games, and 2-player games, that takes you back in time to a fascinating world of pyramids concealed with treasures. This expertly crafted adventure game tickles your sense of curiosity and thrill as you manoeuvre through the labyrinth of ancient traps and mummies.
Right off the bat, The Lost Pyramid sets the stage with two intrepid friends who brave to unravel the mysteries of the pyramid. Their primary goal? To seek out the hidden treasure lurking within this gigantic structure. Every element in this game, from its immersive storyline to its vibrant graphics, perfectly complements its adventure genre.
What sets The Lost Pyramid apart from other typical adventure games is the inclusion of split-screen play. This feature invites the players to work together as they strive to collect all gems, inevitably adding more depth and challenge to each level. In this thrilling saga of 2-player games, never has team spirit been so critical.
The game mechanics are brilliantly designed. Facilities like "Wall Jump" allow players to negotiate vertical walls, providing a whole new dimension to gameplay. Furthermore, keeping track of your progress is made simple with a "Mini Map" conveniently located in the middle of your game screen.
This riveting concoction of monster games and escape games redefines adventure gaming experience as it effectively integrates suspense with strategic gameplay. The Lost Pyramid promises an engrossing journey filled with dangerous mummies, booby traps, lustrous gems, strategic manoeuvres and ultimately, hidden treasures waiting to be discovered.
The Lost Pyramid,
undoubtedly offers an unforgettable adventure that keeps both your mind engaged and heart pounding at every twist and turn within its mysterious corridors. Get ready for an adventurous ride unlike anything you've experienced before!
What are the best online games?