The Fish Master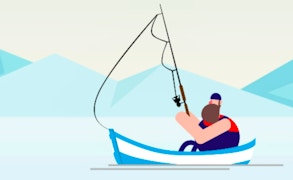 The Fish Master
Get ready to sink your hooks into the immersive world of The Fish Master, a game that flawlessly blends elements of both action and fishing games for an addictive gameplay experience unlike any other. This hyper-casual title is sure to reel in gamers craving for a thrilling challenge.
In the vast ocean of gaming, The Fish Master stands out as a shining pearl. With its engaging gameplay and brilliant mechanics, this game turns the simple act of fishing into an extreme sport. It's not only about the quantity, but also the quality of your catch that establishes you as the ultimate Fish Master.
Innovative features make this game more than just casting lines and catching fish. The compelling progression system makes it one of those skill games that gets you hooked right from the start. You'll find yourself continually improving your fishing line to delve deeper into the underwater ecosystem and haul in even more exotic aquatic creatures.
The Fish Master isn't solely about testing your angling prowess, it's about strategizing and being patient, much like real-life fishing. The vibrant graphics imbue life into every sea creature, making every catch feel rewarding. With every dropped line, there's an exhilarating sense of anticipation for what might bite next.
If you're yearning for a game that provides endless entertainment while also challenging your skills, then let The Fish Master be your definitive choice. Get ready to dive in and immerse yourself in this deep-sea adventure, striving to become the ultimate fish master.
In conclusion, whether you're an action lover or a casual gamer seeking a relaxed yet challenging experience, The Fish Master perfectly marries fun and skill in one unforgettable angling expedition.
What are the best online games?
Tags