Territorial.io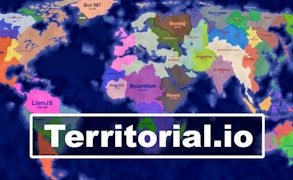 Territorial.io
Engage in Global Domination with Territorial.io
Territorial.io redefines the landscape of strategy io games, inviting players into a world of geopolitical struggles, alliance-building, and thrilling territorial expansion. Fight to enlarge your nation, while steadfastly guarding your borders from competitors. Experience the unique mix of adrenaline and strategy in games that accommodate a staggering 500 players concurrently.
Command your Armies and Shape the World
In Territorial.io, you are more than a mere player; you're a world leader directing the future of your nation. Map out your conquests across a myriad of real-world landscapes, from the old cities of Europe to the bustling metropolis of Singapore, all the way to a comprehensive global map. Customize your army size, apply tactical maneuvers, and launch invasions into enemy land. The world is your chessboard, and victory belongs to the strategist. Beyond military might, your diplomatic finesse is crucial in this world of shifting alliances. Forge peace treaties, distribute resources, and collaborate with neighboring countries to bolster your influence and strength. With every decision you make, remember - the balance of power is always in flux.
An Online Battle Arena Filled with Strategic Depth
Territorial.io catapults the classic 'grow' mechanics of IO games into a realm filled with true strategic depth. Stand your ground in strategic battles that promise a unique and unforgettable gaming experience. Whether you're facing AI opponents in single-player mode or standing against 500 real players in a multiplayer arena, your cunning and strategy will be your best allies.
Feature-rich and Addictive Gameplay
Territorial.io seamlessly marries astute strategy and engaging IO gameplay for an experience that's as intellectually stimulating as it is addictive. Engage in large-scale online battles against up to 500 players, or refine your tactics in single-player mode against AI opponents. Best of all, this rich gaming experience is accessible to everyone for free, and playable across multiple platforms.
About the Developer
The mastermind behind this remarkable strategy game is David Tschacher, who has skilfully developed Territorial.io into a shining gem among io games.
Accessible Across Multiple Platforms
Territorial.io breaks down barriers, making the game available to everyone. Whether you're playing on a web browser, Android, or iOS, Territorial.io's vast world of strategy and conquest is right at your fingertips.
Game Controls
Navigating this complex world is made simple with Territorial.io's intuitive controls: - Use the left mouse button to interact and make commands within the game. Immerse yourself in the captivating world of Territorial.io today, and craft a legacy of your own!
What are the best online games?