Tenno 2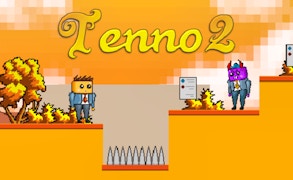 Tenno 2
Description
In the thrilling sequel Tenno 2, you step into the digital shoes of Tenno, an office worker on an important quest. Your confidential office documents have been pilfered by rival companies and it's your job to retrieve them. Navigate through intricately designed levels, dodging menacing robots, lethal saws, and treacherous spikes to reach your office door and progress to the next stage. Difficulty escalates with each new level, offering a sterner challenge.
How to play
Maneuver Tenno around the vibrant 2D platforms using either "WASD" or "Arrow" keys. Evasion is key - avoid enemies and obstacles on your way to the office door. Use "W" or "Up" arrow key for a double jump when a simple jump isn't enough. Make use of this nimble leap to dodge obstacles and reach high platforms.
Tips and Tricks
Always keep an eye out for flying bots and pinpoint their patterns. Rely on your double jumps for navigation over higher spikes or enemies. Be patient; not every obstacle needs speed, sometimes cautious movement is more effective. Look out for hidden pathways—they often lead to extra papers!
Features
A challenging platformer with robotics theme
Evolving difficulty levels across 8 stages
Engaging puzzle-like obstacles with saws and spikes
Unique 'office' setting within a game universe
The sequel to the original "Tenno" series
What are the best online games?