Temple Quest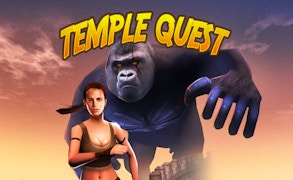 Temple Quest
Description
In Temple Quest, your daring decision to steal an artifact turns into a thrilling adventure, as you navigate through an intricate labyrinth of ancient temple ruins. Your objective is to accumulate wealth by snatching golden idols and antique coins while skillfully dodging numerous obstacles. The more objectives you accomplish, the higher your score multiplier gets. The game offers a fascinating twist with different outfits that possess special powers to boost your progress.
How to Play
In this game, your character will run automatically; it's up to you to control their movements. Use the arrow keys or swipe directions on your smartphone screen for navigation - up for jumping, down for sliding, and left or right for turning corners. Collect power-ups and coins to upgrade and dress your character in outfits with unique abilities. Fulfilling objectives boosts your score multiplier.
Tips and Tricks
Mastering the timing of jumps and slides is crucial to survivability in Temple Quest. Always be alert for incoming obstacles and concentrate on fulfilling objectives to increase your score multiplier. Prioritize dressing up in different outfits as they come with unique abilities that can be game-changers.
Features
An endless running adventure through intricate ancient temple ruins
Variety of outfits with unique abilities that enhance gameplay
Achievements and objectives that significantly boost scores through a robust multiplier system
An exciting mix of power-ups that can be collected and upgraded for a better gaming experience
What are the best online games?
Tags