T-Rex Running Black and White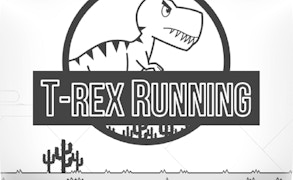 T-Rex Running Black and White
Description
Join the thrilling adventure in T-Rex Running Black and White. This game promises to engage players with its fast-paced escapade. You're a T-Rex and you must dash through the prehistoric world, avoiding numerous hazards such as cacti and pterodactyls. As the gameplay progresses, your T-Rex speeds up, raising the stakes and keeping you on your toes. Your ultimate goal is to assist your T-Rex in surviving this run.
How to Play
To play the game, navigate your T-Rex using simple controls: merely tap or click to make your dinosaur jump. Timing is crucial to avoid obstacles and stay in play. The game becomes progressively faster, forcing you to react swiftly and accurately. Keep surviving by jumping over cacti and ducking under pterodactyls as long as possible.
Tips and Tricks
Mastering T-Rex Running Black and White requires quick reflexes and precise timing. Always anticipate incoming obstacles as the game speeds up. It's beneficial to familiarise yourself with certain patterns in the game such as when pterodactyls tend to appear. Remember, practice makes perfect!
Features
Addictive Gameplay: Dodging obstacles never gets old with steadily increasing speeds.
Simple Controls: Enjoy the game with just a single tap.
Casual Game: Play anytime, anywhere without needing heavy resources.
Retro Style Graphics: The black-and-white design harks back to classic video games, offering a nostalgic experience.
What are the best online games?