T-Rex Run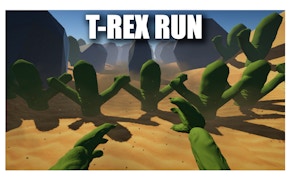 T-Rex Run
Dive into the prehistoric era with T-Rex Run, one of the leading games in the dinosaur games and running games arena. Embrace your inner archaeologist and run wild in this addictively simple yet profoundly entertaining gaming experience.
From the onset, T-Rex Run captivates you with its elegantly executed design evoking a sense of thrill and exhilaration. It is both visually appealing and cognitively stimulating. With a concept that is easy to grasp, players from various age groups will find themselves hooked on this riveting journey through time.
You'll experience an adrenaline rush like no other as you take control of a majestic, unstoppable T-Rex charging through an ever-changing terrain filled with obstacles. The perfect blend of strategy, reflex, and timing makes this game not only fun but also a unique brain-exercise activity.
The impressive aspect about T-Rex Run is its inherent ability to transform a seemingly simple game into a multitude of hours filled with enjoyment and relaxation. The simplicity lies in its control; yet mastering the art of timing can be a challenge, making it a perfect balance for those seeking light-hearted fun or an arduous gaming challenge.
If dinosaur games or running games are your cup of tea, then T-Rex Run is undoubtedly worth the shot! This game is well-built to provide countless hours of entertainment and relaxation rolled into one engaging package.
Eager to kick off your prehistoric adventure? Don't wait up! Immerse yourself in the world of T-Rex Run now! A beautifully designed game that expertly balances fun gameplay with a relaxed atmosphere- it's truly the apex predator in its genre.
What are the best online games?