Sweet Cats Coloring Book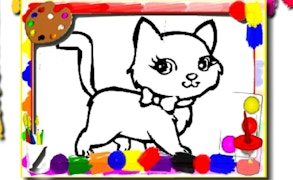 Sweet Cats Coloring Book
Delve into a world of captivating colors and whimsical creativity with the incredibly delightful Sweet Cats Coloring Book, a masterpiece among coloring games and drawing games. This captivating game is perfect for nurturing your child's artistic sensibilities, making it one of the must-try Games for Kids.
In this enchanting game, the vibrant hues are at your mercy. You alone can compose a symphony on a blank canvas, creating an impressive medley of colors that illustrate your personal artistic vision. Sweet Cats Coloring Book stands out in the realm of animal games, allowing you to tap into your creativity like never before.
The gameplay is as simple as it is engaging. Choose any image you desire, then let your imagination run wild as you bring it to life with the brush tool's mesmerizing spectrum of colors. No two paintings are alike, each one reflecting a world uniquely yours.
If there's a special place in your heart for furry feline friends, then this is one of those cat games you don't want to miss out on. Feel an invigorating sense of accomplishment as you transform each cat character from a simple sketch into an exquisite painting bursting with life and color.
To sum up, the charm and pleasure of coloring are captured brilliantly in this game. A swirl of color awaits in every image, beckoning young gamers to explore their creative potential. With its straightforward gameplay and abundant charm, Sweet Cats Coloring Book is truly an endearing addition to the universe of online coloring/drawing games designed specifically with kids in mind.
In conclusion, whether it's to pass time or indulge in some colorful fun, let Sweet Cats Coloring Book be your paintbrush to a world teeming with artistic freedom and endless joy. Remember - every picture holds untold possibilities just waiting for your touch.
What are the best online games?