Swampy Assault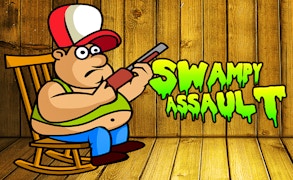 Swampy Assault
Description
In Swampy Assault, you are tasked with defending your marshland domicile from a wave of predatory creatures such as crocodiles and turtles. Equipped with a shotgun, you must face these creatures head-on in numerous challenging levels. Experience the thrill of survival, packed with action, and enjoy the unique setting featuring swamps and your redneck hero.
How to Play
To survive in Swampy Assault, use your mouse click or a tap on your screen to shoot incoming attackers. There is no limit to the bullets, but precision is key for optimal performance. The game progression depends on the successful completion of each level with increasing difficulty. So, arm yourself and get ready for an action-packed adventure.
Tips and Tricks
Maintain a keen eye on surrounding enemies and don't panic while shooting, as bullets are unlimited. However, try aiming for multi-kills by waiting for enemies to cluster together before firing away. Prioritize bigger enemies like crocodiles over smaller ones, as they can cause more damage.
Features
Action-Packed Levels: Each level presents new challenges to overcome.
User-Friendly Controls: Easy-to-use controls make it simple for anyone to play.
Hunting Theme: A unique environment that sets a perfect backdrop for the game.
Unlimited Ammunition: No need to worry about running out of bullets here!
What are the best online games?