Swamp Attack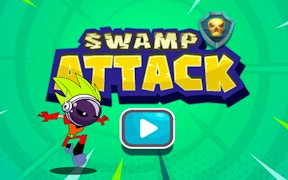 Swamp Attack
Dive into the mysterious and eerie bog of Titan Swamp Attack, an exceptional entrant in the popular genre of monster games, robot games, and battle games. This enthralling adventure unfolds in a gloomy swamp brimming with a myriad of adversaries; from monstrous beasts to ruthless robots, aiming towards your annihilation.
This game, provided freely by taptapking.com, introduces you to a diminutive titan. Tasked to rescue the world from an imminent onslaught, this titan faces formidable threats that have seized the swamp with malevolent intentions of world destruction. But fear not! Titans may be small in stature but their courage is indomitable and with your skills aiding them, they are hardly defenseless.
Titan Swamp Attack ingeniously interlaces elements from running games into its core gameplay. As your small titan dashes through the swamp, dodging destructive robots and vicious monsters becomes a thrilling necessity. Your titan's survival hinges on your quick reflexes, strategic maneuvers, and timely leaps!
The boss battles are the crowning glory of Titan Swamp Attack. These battles are the ultimate test of your skills and offer a rewarding challenge to those who dare to brave them. There's more than just survival at stake here; it's about reclaiming the invaded swamp and saving the world from doom!
In conclusion, Titan Swamp Attack stands as an exciting fusion of monster games and robot games underlined with the urgency drawn from running games. It's not just a battle; it's a race against time in a contaminated swamp teeming with hazards. This game will grasp hold of your adrenaline levels and refuse to let go until you've emerged victorious!
What are the best online games?