Survival Zombie Battle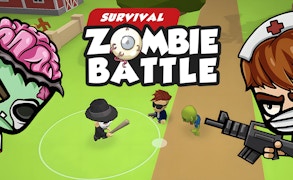 Survival Zombie Battle
Welcome to the exciting, bloody battlefield of the Zombie Battle Survival, a perfect blend of zombie-games, battle-games, and classic battle-royale-games. This game will take you to a wickedly fun cartoon world where the apocalypse has unleashed legions of undead over the earth.
Imagine if you were in a post-apocalyptic world, and your survival kit contained more than just canned beans and bottled water. This is exactly how Zombie Battle Survival presents itself. The game offers numerous locations like cities, deserts, forests, farms, and military bases where you are not only hunted by zombies but also by other players even when you're offline.
The highlight of this game is its improvised items. You'll find yourself trapped in a love triangle with an axe and a pitchfork in one hand, construction tools in another, and then there's pistols, grenades, chemical weapons at your disposal. The cartoonish vibe hasn't undermined the sheer joy of blowing up zombies!
Zombie Battle Survival is as much about strategy as it is about action. Its simple controls won't take long to master but the real challenge lies in choosing your landing place wisely to get an upper hand over both zombies and other hunters. The large interesting map keeps the thrill alive all throughout.
The game doesn't stop at presenting an impressive arsenal of weapons either; it adds further spice with collectible loot items scattered on the battlefield adding an element of mystery to each playthrough. Plus, with tons of new weapons, boosters, game modes and enemies unlocking with each map addition—the fun never stops.
To sum it up, Zombie Battle Survival is a fresh breath in gun-games. Its intense battles, diverse environments, a wide arsenal of weapons and cool loots make it an action-packed joyride.
What are the best online games?