Superstar Hair Salon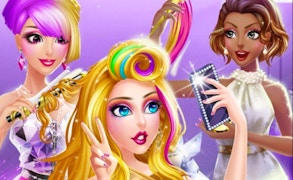 Superstar Hair Salon
Step right into the glamourous world of fashion and beauty with the brilliant game - Superstar Hair Salon. Perfect for those who love Games for Girls, dress up games, Hairdresser Games, makeup games, and most importantly, fashion games, this masterpiece becomes your box of creativity and innovation.
Superstar Hair Salon invites all budding stylists to lead their own beauty journey. The stage is yours to turn an ordinary girl into a superstar with the most stunning hairstyle that perfectly suits her personality. Let your imagination run free and design a look that not just turns heads but makes every jaw drop in awe!
The game's design and intuitive UI give it the edge over other dress up and Hairdresser Games. It ensures that players of all ages can easily navigate through various style selections. The rich tapestry of available styles allows you to personalize each look to your liking, making it an incredible experience for those who have an eye for detail in fashion games.
In this thrilling quest of being a hairdresser in the virtual world, you're not just applying styles; you are creating art. Whether it's the challenge of choosing hairstyles or applying immaculate makeup, remember, each stroke is a step closer to revealing the superstar within.
As far as Games for Girls go, this one proves to be more than just about dressing up; it's about discovering oneself in a world filled with glitz and glamor. Every decision you make brings out your unique flair for fashion and styling.
Superstar Hair Salon, with its perfect blend of fun and creativity, has earned its place on the list of must-play fashion games. A superb experience awaits those ready to leave their mark on the glamorous universe!
What are the best online games?