Super Oliver World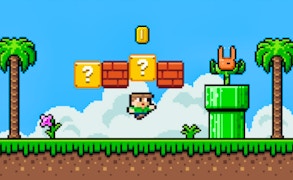 Super Oliver World
Welcome to the majestic pixelated realm of Super Oliver World, a masterfully designed arcade game that flawlessly captures the nostalgia of classic Retro Games. Inspired by iconic Mario Games, Super Oliver World catapults players into a compelling mix of excitement and nostalgia. With its addictive, fast-paced gameplay, this title is a must-play for fans of exhilarating running games and challenging block games.
In Super Oliver World, you find yourself embarking on an epic journey with the brave little Oliver. Your task is to navigate through treacherous terrains, defying gravity and outsmarting clever traps set by nefarious foes. Each level is an adventure unto itself, promising heart-racing escapades reminiscent of old-school arcade thrills.
The game brilliantly utilizes pixel aesthetics to create a captivating environment. As you guide Oliver through the perilously delightful stages, you'll be breaking blocks to discover hidden power-ups, collecting valuable coins, and encountering awe-inspiring surprises that enhance the overall gaming experience.
The intuitive controls add to the rush of sprinting through each level at break-neck speed while dodging threats and pitfalls. The responsiveness leaves you in absolute control as you perform death-defying leaps or sprint headfirst into danger.
To put it simply, Super Oliver World is not just a game; it's an experience - an ode to days gone by when gaming was all about skillful navigation and timely jumps. It combines elements from your favourite retro hits while introducing modern features that make it stand out in today's saturated market.
In conclusion, Super Oliver World isn't just for fans of Mario Games; it's a love letter to every gamer who appreciates the charm of Retro Games, the thrill of running games, and the strategic thinking required in engaging block games. So strap on your gaming gloves because this pixelated paradise awaits your conquest!
What are the best online games?