Super Friday Night Funkin' at Freddy's 2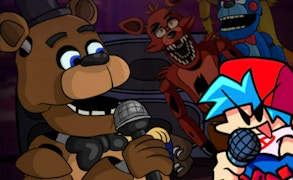 Super Friday Night Funkin' at Freddy's 2
Combining the thrill of monster games with the rhythmic beat of music games, Super Friday Night Funkin' at Freddy's 2 is an intense and electrifying arcade experience that tests your skills and sends chills down your spine. It's a seamless transition from the first instalment, with the unexpected horror element intensely paired with lively music, creating an extraordinary gaming environment that will definitely get your heart pounding.
The game focuses on capturing the whimsical yet sinister atmosphere of Freddy's world while challenging players in exciting rhythm-based battles. You step into the shoes of Boyfriend or Girlfriend as they engage in high-stakes vocal face-offs against freddys, Chica, and an array of other characters from this animatronic nightmare. The goal is simple: match the arrows to perfectly hit each note and increase your score. With each level completed, new songs and opponents are unlocked – each more bone-chilling than the last.
The wide variety of songs offers players a richly diversified experience. Whether you're a fan of rapid-fire techno or slow-burning ballads, there's a track for every taste in this audibly pleasing gaming wonderland. Suddenly, this horror-infused arcade game also becomes one of the best Skill Games, as perfecting your timing to hit each note becomes almost as terrifying as facing off against these monstrous AI.
In conclusion, Super Friday Night Funkin' at Freddy's 2 might give you nightmares, but it'll also give you hours upon hours of exciting music battles and skill-building opportunities. Its innovative blend of genres cements its status as an unforgettable arcade experience that has something for everyone - from ardent rhythm gamers to adrenaline-seeking horror enthusiasts.
What are the best online games?