Super Fighting Robots Defense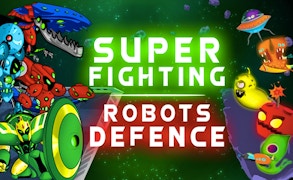 Super Fighting Robots Defense
Prepare your troops for an interstellar showdown because Super Fighting Robots Defense is the ultimate amalgamation of gun games, battle games, war games, robot games, and monster games. This strategy-based extravaganza takes you into the heart of a space-age resistance where only you have the hope to win.
Often, strategy gamers are seeking a game that can challenge their tactical nous. Well, with Super Fighting Robots Defense, prepare to have your strategic skills tested like never before. In a vivid galaxy under siege from life-destroying invaders, elements of gunplay and warfare merge seamlessly with traditional strategy gameplay. This fusion creates an immersively challenging experience that stands head and shoulders above other robot games.
The crowning glory of your battle against the alien onslaught is the BOMBER 2000. Although unfinished, this powerful spaceship personifies hope in this stars war. The stakes are high: protect the BOMBER 2000 or risk losing it all. In doing so, Super Fighting Robots Defense cleverly implements aspects of battle games creating a narrative that feels relevant no matter how many times you play.
No battle game would be complete without an array of foes to vanquish and Super Fighting Robots Defense doesn't disappoint. From hostile extraterrestrials to monumental monsters, every new wave of enemies ups the ante – just one element that makes this one of the most gripping monster games.
In conclusion, Super Fighting Robots Defense truly is a smorgasbord of gaming fun. Combining elements from various genres aptly justifies its tag as a multi-faceted thrill ride which none of the strategy lovers should miss! Now sharpen those minds soldiers, prepare thy guns and let's defend our galaxy!
What are the best online games?