Super Brothers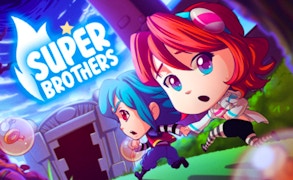 Super Brothers
Step into an epic adventure filled with challenges and fun with Super Brothers, a fantastic 2D puzzle-platform game that's perfect for those who crave for an exciting blend of 2 player games, escape games, and running games. Immerse yourself in a captivating fantasy world, where two little brothers find themselves trapped and are yearning to make their escape back home.
In this stunning game, you'll feel the thrill of venturing through a mysterious and dangerous realm. The game mechanics revolve around solving puzzles, collecting keys, maneuvering through perilous obstacles, unlocking doors and guiding the duo on their long-awaited journey of liberation. The dynamic concept keeps the adrenaline rushing as you utilize different characters each with unique abilities to navigate through vast landscapes filled with water hazards, spikes, and more!
The heart of Super Brothers lies in its unique blend of genres. Just when you think it's all about escapism, it surprises you with running elements that demand quick reflexes and strategic thinking. And the fact that it's a 2 player game only adds to the sheer fun and competitiveness. You can either cooperate to beat the challenges together or compete to see who outsmarts whom. Pair this with ingenious level designs and you've got a game that constantly keeps you on your toes.
Despite its seemingly innocent aesthetic, don't be fooled - Super Brothers is not just another run-of-the-mill platformer. It will constantly keep you guessing with its unpredictable level designs and unexpected challenges - making it one of the most exhilarating escape games on offer.
In conclusion, Super Brothers is a testament to how innovative gameplay mechanics can breathe new life into classic genres. It promises an engaging escapade that will entertain both newbies and veteran gamers alike – truly a must-have addition for any gaming library.
What are the best online games?