Summer Fun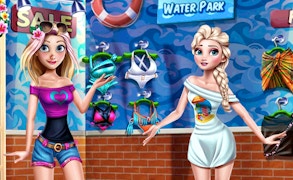 Summer Fun
Immerse yourself in the sun-soaked, splash-filled world of Summer Fun, a game that's perfect for young fashionistas with a love for all things princess. This refreshing title is not only engaging but also promises to provide hours of entertainment and experience into the realms of hairdresser games and dress up games.
In Summer Fun, you join three beautiful princesses on their summer day-out at the water park. But their adventures can't begin until you've picked out their stunning pool outfits, making this one of those fashion-focused games for girls that presents an enchanting blend of style and strategy.
This game does a fantastic job of incorporating elements from popular categories such as fashion games, dress up games, and even hairdresser games, making it an all-inclusive package for any young gamer with a passion for creativity. The satisfaction derived from seeing your chosen outfits on the princesses brings an unbeatable feeling of achievement.
Dive into this stylish universe where every choice you make adds a touch of sparkle to our princesses' day out. The game's clear graphics and vibrant colours are sure to engage kids, while the interactive elements keep gameplay fun and exciting. So whether you're accessorizing your princesses or choosing their hairstyles, each decision contributes to the unfolding summer fun.
Summer Fun, cleverly weaves in elements that are reminiscent of popular Princess Games. These add a touch of elegance and royalty that many kids will find alluring. Spend your summer days guiding our royal ladies through their sunny escapades at the waterpark. With its combination of style, strategy, and fun, Summer Fun is more than just another addition to the realm of games for girls.
In summary,
Summer Fun
proves to be an engaging game environment that charmingly combines different genre-elements while keeping players' creativity stoked with its fashion-central challenges. Give it a whirl, indulge in some royal dressing-up and dive into endless fun this summer!
What are the best online games?