StreetBoard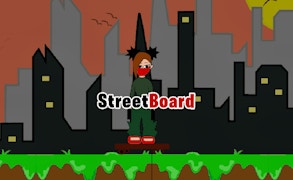 StreetBoard
Description
In StreetBoard, gravity is your greatest ally and danger is your closest companion. Navigate treacherous tracks on your skateboard, braving the dead of night to reach your goal. Beware of venomous snakes, toxic mushrooms and lethal cacti strewn along the perilous roads. This high-octane adventure game turns skateboarding into a thrilling survival test.
How to play
Control your skateboarder using the "wasd" or "arrow keys". You are equipped with the ability to perform a double jump for maximum maneuverability. For mobile players, the game provides intuitive touch controls for seamless gameplay. Speed through levels and avoid obstacles to reach the finish line.
Tips and Tricks
A key strategy is to time your double jumps effectively to avoid hazards. Be observant for unexpected dangers like rapidly appearing snakes or suddenly emerging cacti. Stay vigilant at all times as danger lurks in every corner of StreetBoard's nocturnal landscape.
Features
Thrilling Adventure: Conquer nerve-racking routes packed with various obstacles.
Night-time Setting: Adds a unique challenge and atmosphere to the skateboarding experience.
Double Jump Mechanic: Provides an exciting twist to traditional skateboard controls.
User-friendly Controls: Easy-to-learn control layout for both PC and mobile users.
What are the best online games?