Stickman Blockworld Parkour 2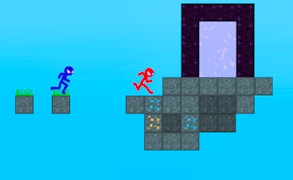 Stickman Blockworld Parkour 2
Description
In Stickman Blockworld Parkour 2, you are immersed in a thrilling adventure game set within a world of complex blocks. You control two stickman brothers with one mission - survive by reaching the portal. The danger lies not only in perilous drops and disintegrating floors but also in moving obstacles, adding an extra layer of excitement and challenge to the gameplay.
How to play
The goal is simple: guide the stickman characters past various obstacles to reach the portal. The game requires a careful balance of speed, timing, and strategy to navigate damning cliffs and moving floors. The controls are user-friendly, allowing for seamless navigation, jumps, and strategizing throughout the game.
Tips and Tricks
Maintain a keen sense of observation and plan your moves carefully. Optimize your speed for each obstacle type - hurry through disappearing floors but take time with moving platforms. Also, utilize the two-character feature strategically; each stickman can help extend your game's lifespan by reaching farther portals.
Features
Intense adventure filled with exciting obstacles
Engaging gameplay requiring strategy, precision, and speed
Dynamic platform world that immerses players into challenging terrains
User-friendly controls for smooth navigation
What are the best online games?