Stick Warriors Hero Battle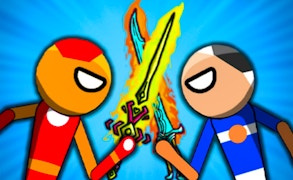 Stick Warriors Hero Battle
Step into the adrenaline-fueled world of the Stick Warriors Hero Battle, one of the most thrilling additions to the universe of stickman games. This is not your average combat experience. Rather, it's an immersive journey, a rollicking thrill ride that takes you to the heart of deadly arenas where courageous stickmen become heroes.
The true essence of battle games shines through in Stick Warriors Hero Battle as it compels you to strategize, dodge, and attack with precision. An extra layer of excitement is added to this mesmerizing gaming arena as each stickman hero arrives on the battlefield with unique weapons and distinct fighting abilities. From mind-boggling melee strikes to long-range attacks, there's no dearth of options when it comes to asserting your dominance.
But it's not just about sheer power and agility; Stick Warriors Hero Battle truly stands out in its variety. With the option for single player or two player modes, this game becomes a beacon in the expansive universe of knight games. The co-op experience redefines what 2 player games can really be like, as it invites you and a friend into intense and thrilling stickman encounters.
In this relentless pursuit of survival that will undoubtedly satisfy fans of survival games, you need to watch out for power-ups that sporadically spawn around the map. Be warned though - some might enhance your abilities while others could potentially cripple your hero. The genuine element of suspense here is choosing wisely!
In all, Stick Warriors Hero Battle encapsulates the best elements from different gaming genres into one action-packed package. Whether you're seeking a challenging single-player adventure or a co-op exploit with a friend, this game promises intense combat sequences that will keep you on edge from start to finish.
What are the best online games?