Stick Soldier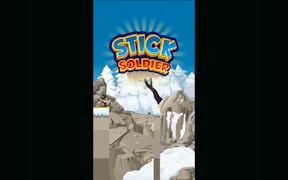 Stick Soldier
Calling all lovers of arcade games and skill games, step into the immersive, fast-paced world of Stick Soldier. Encompassing a blend of adrenaline-pumping action and strategic building elements, this game will undoubtedly captivate you from the first second.
In Stick Soldier, you play as a valiant soldier equipped with an uncanny ability to craft paths out of thin air. You do this by simply clicking and holding your screen. The challenge lies in building these paths with perfect precision, creating a vibrant bridge between poles. A click too short or a hold too lengthy, and your soldier plunges into the abyss below.
The game thrives on a player's skill level, making it an arcade game that truly tests your reflexes and timing capabilities. It is one offering from the genre of building games that will have you hooked in no time for its distinct charm.
The gameplay is dynamic and continuous - it keeps going until your soldier meets his inevitable doom, causing you to start over again reviving the thrill of the first step each time. Your skills are sharpened progressively as you overcome every obstacle hurled at you.
The beauty of Stick Soldier lies in its simplicity - simple controls yet complex gameplay dynamics - making it not just another generic game in the arcade genre but one that truly stands out as a uniquely engaging experience.
If you're seeking an experience that combines the nail-biting anticipation of skill games with the creative flexibilities of building games, then Stick Soldier is undoubtedly a must-try. This masterfully crafted arcade game will keep you on edge while providing hours of intense gaming excitement.
In conclusion, Stick Soldier is your go-to arcade fare that effortlessly brings together exhilaration, creativity, and skill-testing elements under one simple yet captivating premise.
What are the best online games?