Stick Monkey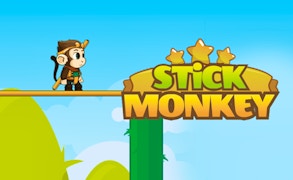 Stick Monkey
Description
In EG StickMonkey, you play a lively monkey with a tricky mission - crossing treacherous terrain without a bridge! Your primary tool to overcome this obstacle is a unique, extendable stick. Timing and precision are crucial as you adjust the stick's length for each gap. With addictive gameplay and vibrant graphics, EG StickMonkey promises endless fun for those ready to take on the challenge.
How to Play
The game controls are delightfully simple yet challenging to master. Clicking your mouse or tapping your screen extends the stick. The aim is to judge the correct length so that your monkey can make it across each gap safely. But beware – making the stick too short or too long will result in failure! As you progress, the gaps become wider and more difficult to cross.
Tips and Tricks
Practice makes perfect in this game. Improving your timing skills and precision will help you navigate the gaps effectively. Be patient and observe each gap carefully before determining the length of your stick. It's all about judgement and timing, so don't rush!
Features
Simple One-Click Controls: Easy to understand, hard to master!
Addictively Fun Gameplay: You'll find yourself playing round after round!
Cute Monkey Character: Makes navigating treacherous terrain way more fun.
Vibrant Graphics: The colorful visuals keep everything engaging.
What are the best online games?
Tags