Steveminer Home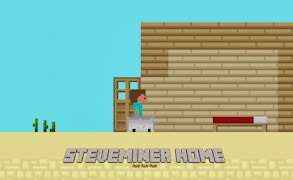 Steveminer Home
Description
Plunge into the dangerous world of Steveminer Home, an intense, pixel-style adventure. As Miner Steve, players must navigate through perilous obstacle courses to return home safely. Featuring a downpour of TNT rain, deadly obstacles such as arrow-shooting boxes and underground knives, and treacherous walls, the game promises a heart-pounding journey one must bravely traverse.
How to Play
Commanding Steve is straightforward in Steveminer Home. Press the "a" key to halt your movements and avoid incoming threats. Use the "w" key for jumping over obstacles; skillfully utilize the double jump feature to overcome taller barricades. For mobile players, touch controls are available for convenient and responsive gameplay.
Tips and Tricks
Perfect your timing in Steveminer Home. Stopping at the right moment can mean evading certain doom from a TNT rain or an arrow onslaught. Practice your double jumps to surmount tricky obstacles. Always stay vigilant and ready to react quickly, as dangers lurk everywhere.
Features
Pixellated Graphics: The game boasts a nostalgic pixel-style design that lends charm to the hazards-filled adventure.
Tough Obstacles: From TNT rains to arrow-spewing boxes, challenge various death-dealing hindrances on your way home.
Double Jump: A simple yet life-saving mechanism in the game, this feature adds depth to maneuver strategies.
Responsive Controls:: For both desktop and mobile users, controls are intuitive and respond swiftly to your actions.
What are the best online games?