Steve and Alex Dragon Egg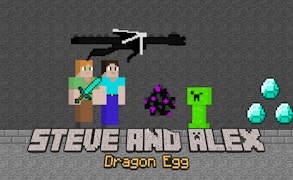 Steve and Alex Dragon Egg
Description
Jump into the crazy world of Steve and Alex Dragon Egg, a thrilling action game where you team up with the intrepid adventurers, Steve and Alex, on their daring final quest to steal a dragon egg. However, achieving their goal won't be easy - they must defeat the fiery dragon and navigate through a dangerous labyrinth filled with exploding green monsters, dodgy obstacles and sealed off pathways that need to be cleared. Remember, each character has unique abilities - one wields a sword and the other sports a pickaxe.
How to play
The controls are simple - use your arrow keys to move Steve or Alex around the screen. Use your mouse click for swinging the sword or pickaxe. Work as a team to slay the dragon, snaffle the egg and escape unscathed! You'll need to collaborate strategically since only one character can use a sword for fighting off enemies and the other is equipped with a pickaxe for digging through walls.
Tips and Tricks
Prioritize teamwork! Utilize Alex's sword-swinging abilities effectively for defense against zombies while Steve's pickaxe skills come in handy to forge new paths in your escape route. Also, keep an eye on potential ambush spots - exploding green zombies have no qualms about sneaking up on you!
Features
A thrilling action-packed gaming experience.
Detailed pixel graphics that create an immersive environment.
Singular gaming characters each with unique abilities - sword fighting or digging.
A multitude of challenges including dragons, zombies and plenty of obstacles.
A high level of collaboration and strategy is required to succeed.
What are the best online games?