Stencil Art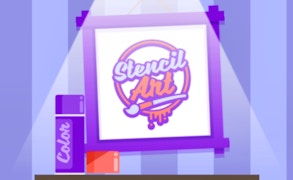 Stencil Art
Get ready to unleash your inner artist with the astonishing Stencil Art, an unmissable addition to the exciting realm of drawing games and coloring games.
This compelling game molds every gamer into the graffiti master they've always dreamed of being. Perfectly tailored for both kids and adults, its simplistic yet engaging nature makes it one of the most sought after Games for Kids, as well as a hit among Games for Girls.
The concept of Stencil Art is simple but captivates you from start to finish. Starting off, you are presented with numerous pictures waiting to be brought to life with vibrant colors. Armed with a spray can, press jet and watch as your chosen image blooms on your screen. It is as simple as spray and reveal, with no prior art skills needed - making it a dream playground for those looking to delve into the adventurous universe of virtual graffiti art.
Intriguingly, Stencil Art allows players to expand their color palette by merely watching ads. It's a fantastic way not just to keep users engaged but also provide them with cool colors they would never have guessed existed! This feature amplifies the fun factor, making it one of the best coloring games out there.
All in all, Stencil Art doesn't just offer a game but an immersive experience that stimulates creativity and imagination. It's a virtual canvas where players can display their distinctive pieces for everyone to appreciate - An open stage for every aspiring artist!
To sum up, if you're hunting for an engaging, innovative and relaxing game that seamlessly blends fun with creativity – Stencil Art is an absolute must-try in the world of drawing and coloring games!
What are the best online games?