Star Girls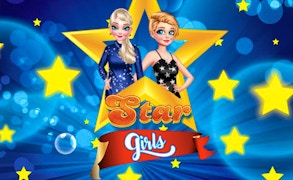 Star Girls
Get ready for a cosmic adventure filled with glitter, glamour, and galaxies of fun with the Star Girls game! This captivating offering, designed specifically as a part of Games for Girls, expertly combines elements of makeup games, dress up games, and Hairdresser Games into one stellar package that keeps kids entertained and engrossed.
In Star Girls, you join Emma and Mia, two best friends who share a love for all things celestial. Their fascination with the luminous bodies illuminating the night sky fuels their fashion choices. The mission is to help these beauties get dressed in star-themed outfits that reflect their personalities and passion.
The magic starts with an enchanting burst of creativity in the game's makeup segment. From star-spangled eye shadow to galaxy-speckled lipstick, your task is to create a makeup masterpiece that matches the theme. You are given complete creative control over the makeup choices – an element that allows players to truly shine.
Moving on to the Dress up games aspect, players are provided with a wide array of clothes and accessories all adorned in stars. Mixing and matching different pieces is not only fun but also stimulates the creativity of young minds. The possibility of creating unique ideas is infinite, just like space itself.
The final piece of our cosmic puzzle comes in the form of Hairdresser Games. Styling Emma and Mia's hair to fit their space-themed look completes their transformation into true Star Girls. Whether it's shooting star braids or glittering galactic curls, every hairstyle is an opportunity for expression.
In conclusion, if your little star-gazers love makeup, dress-up, and hairstyling games then they'll surely be over the moon with Star Girls. It is more than just a game; it's an intergalactic journey fuelled by fashion and fun!
What are the best online games?