Star Battles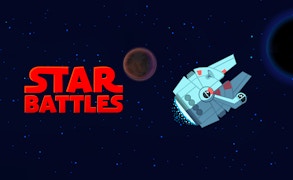 Star Battles
Description
In Star Battles, navigate through the vast expanses of the universe filled with hostile ships. Your goal is to complete missions, travel through the cosmos, and survive the enemy onslaught. Fly your spaceship at varying speeds, avoiding collisions with enemy ships in an intense, fast-paced game of endurance and strategy. With a host of spaceships to unlock and pilot, Star Battles offer endless hours of space exploration and galactic battles.
How to play
To fly your spaceship, simply tap on your screen. Tap faster to speed up or slow taps to decelerate. Avoid crashing into other ships by strategically maneuvering around them. Complete missions for rewards that allow you to unlock more powerful and sleek spaceships. Survive as long as possible in this cosmic battlefield for extra points.
Tips and Tricks
Adapt your speed according to the number of enemy ships around you for better navigation. Completing missions not only unlocks new spaceships, but also grants bonuses which can enhance your survival prospects in later levels. The key is adaptability, being able to change your flight path swiftly can often mean the difference between surviving or crashing.
Features
Straightforward Tap Controls: Easy-to-learn controls that rely on simple screen taps.
Variety of Spaceships: Unlockable roster of spaceships with varying designs and abilities.
Missions: A variety of missions that provide both challenges and rewards.
Endurance-Based Gameplay: The longer you survive, the more points you accumulate.
What are the best online games?
Tags