Stacky Run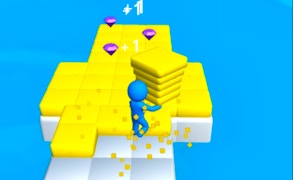 Stacky Run
Welcome to the exhilarating world of Stickman Games, where agility meets strategy in a classic arcade runner. Today, we delve into the whimsical world of Stacky Run, a marvel in Skill Games optimized for a thrilling experience anytime, anywhere!
Stacky Run is deceptively simple, stripping away distracting complexities and focusing on pure gameplay. You won't find lengthy tutorials or intricate level designs. Instead, this game invites you to dive right in, making it the perfect distraction for those stolen moments of leisure.
As part of the popular genre of running games, Stacky Run harnesses simplicity with a twist. Your goal? To reach the end safely. The challenge? Collecting as many bricks and diamonds as possible within each level. These aren't just trophies; they're essential building blocks for bridges between islands. Every brick counts towards your bridge, and every diamond adds that extra sparkle to your score.
The beauty of Stacky Run lies in its simplicity that masks a undercurrent of strategy. Where do you collect more bricks from? How many do you need for a successful bridge? When should you stop collecting and start running? These decisions matter and elevate Stacky Run beyond the ordinary Skill Games. Yes, it's casual but it requires your focus.
The charm of this game is that it encapsulates the fun and energy of old-school arcade games. It may not be complex or layered, but its straightforward gameplay is refreshingly enjoyable. The graphics are clean yet colorful, successfully creating an attractive gaming environment that keeps players engaged.
If you're seeking a game that's easy to pick up but hard to master, Stacky Run could be your perfect match. Whether you're new to stickman games or an experienced runner looking for a new challenge in running games—this game will keep your fingers tapping and heart racing.
Are you ready for an adventure filled with bricks, diamonds, and endless fun? Then gear up for some exciting times with Stacky Run – where every run makes a difference!
What are the best online games?